School Vision & Development Plan
"Loved, Inspired, Shining"
Our vision is for:
• Each person to know they are loved as they are by God, flourishing and reaching their potential.
• All our families to live life in all its fullness, inspired to learn through a creative curriculum.
• Our school to "Shine like a star", bringing hope and courage to our community.
Underpinning our vision is that love grounds everything we do.
"Let us love one another, because love comes from God." 1 John 4:7
"There is no fear in love, perfect love drives out all fear." 1 John 4:18
School Development Plan 2021-22
This academic year our School Plan will focus on many areas but the key ones that we would like both our children and their families to focus on again fall into an acronym. We hope that this will help our whole community to understand what it is that we are working on from September. This year we are focusing on S.H.I.N.E.S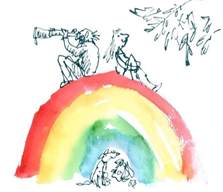 Spectacular Vocabulary
Healthy Mind, Body and Spirit
Inspiring Curriculum
Nature and Outdoor Learning
Exceptional English
Spectacular Vocabulary: We will be focussing on our children's ability to speak in a variety of different situations. This will include clearly and confidently speaking in a group or in front of a larger audience. For our older children, this may include debating subjects and discussing the viewpoints of others. We will develop the children's vocabulary as part of our teaching across the curriculum and encourage them to articulate their learning and explain their thinking and reasoning when problem-solving.
Healthy Mind, Body and Spirit: This will be a real focus for us this year as we continue to prioritise the health, wellbeing and spirituality of our whole school community. Dedicated time will be given on a daily basis for children to explore their feelings and experience awe and wonder. Spirituality is not something we can see; it is something we feel inside ourselves. It is about awe and wonder, asking questions, inspiration and being aware of something 'bigger' outside of ourselves. Among other areas of the curriculum, we will be harnessing our expertise within the arts, creativity and music to further enhance our spiritual development.
Inspiring Curriculum: Over the last few years, we have been working hard to develop our rich and exciting curriculum. We want to ensure that our children have access to a broad and balanced curriculum which inspires them and harnesses their interests, providing inspiration in all subjects. This year, we have carefully considered our curriculum approach to ensure any learning missed in previous year groups, does not impact on the children's skills development in each subject.
Nature and Outdoor Learning: We will be continuing to focus on outdoor learning, with opportunities for children to explore and connect with the natural world on a regular basis. We are delighted to have welcomed Mr Thomas-Friend to our staff team as our new Forest School teacher. We are certain that his skills, knowledge and expertise will be an excellent addition to our teaching staff team. He will be in school every Thursday and will be teaching rich and exciting sessions in The Nest on a rotational basis.
Exceptional English: We will be further enhancing our Reading focus from last year, to develop our children's phonic knowledge. We will be focussing on the application of phonic skills to help them with their reading, spelling and writing.